i'm currently in the middle of reading pride and prejudice and little women (and my school books), so i thought it was time to share some of my favorite books with you. have you read any of these before? are they on your list of favorites, too? check them out!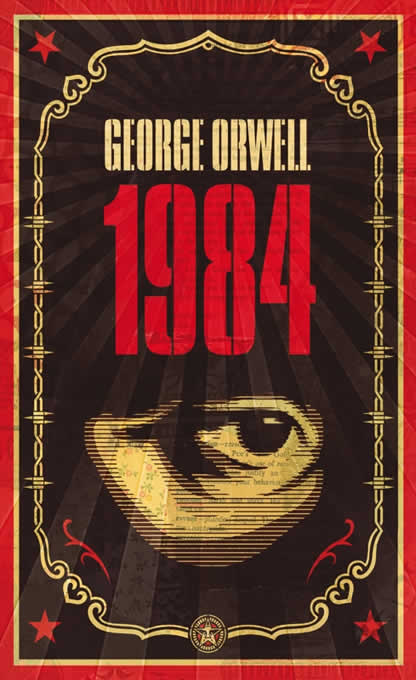 1984...
this might be my favorite "big brother, distopian society" book. i usually read this once every few years- it gets my spirit fired up. i'm amazed at how a book written in 1948, about the year 1984, can actually still resonate so perfectly with today's society... believe me, this book is much better now that you don't
have
to read it
(hello, high school reading list)
Fahrenheit 451...
another on the high school reading list, i recently picked up fahrenheit 451 for the first time since..? sophmore year? more than ten years ago... all i can say is:
i'm really sad i waited so long to give this book another chance.
another distopian society, another accurate (in my opinion) look at humanity/morality/society. it's a good read- and you'll always know the temperature which books burn (;
To Kill A Mockingbird...
ok, ok, i like classics, all right?! and this one about civil rights in the south in the 60's is so spot on. scout might be one of my favorite literally characters- atticus finch definitely is! it's an excellent read, and a great story..
The Great Gatsby...
this book has been my favorite since i first read it in high school. seriously. i've always loved the danger, the glamour, the utter indulgent behavior. and soon, it will be a movie. so you might as well pick it up and start reading/re-reading it before you see leo (;
A Brave New World...
another favorite since high school.. and we can see a trend here: distopian societies, the government wins in the end, free thought is a rarity which we must embrace and exhaust to all our abilities... it's just good.
(and then you watch GATTACA, and you see my college alma mater.. booyah!)
Ishmael...
i recommend everyone read this at some point in your life. particularly if you are feeling a little lost or in your mid-twenties. puts life in perspective, and just makes you think about your place in the world.
The Help...
i'll admit, the first part of this book was SLOW (and i hadn't yet watched the movie when i first read it) but once you get through the character backgrounds, this book really takes off. i could not put it down. i recommend reading this before or after to kill a mockingbird. then you will love everyone.
The End of Faith...
so i grew up christian, a skeptical one. and this was the first pro-atheist book i read. i have to admit, i loved the logic. the brutal honesty. i once saw
sam harris argue chris hedges
. it was brilliant. and my inner philosophy nerd squealed with delight at the arguments (and, no joke, after sam countered, most of the hall erupted in applause. i mean, chris' argument was really
NO
argument, at all...)
Harry Potter...
does this even need an explanation? didn't think so.
The Stranger...
camus, existentialism, the absurd, what makes us do what we do and why are we like we are and what is the purpose of this life and how should we live it? yup, this book won't answer any of those questions, but it will certainly have you asking them (; which is why i love me some
existentialist thinking
... you will be asking questions and wondering about your own responsibility to the world/in the world. you will realize we distract ourselves from the absurd with things like art, music, and relationships. and, at the end of the day,
we are defining who we are based upon the choices we make
, and that's some pretty heavy responsibility, isn't it?
to summarize: basically, you ought to read the books about civil rights first, then onto the books about distopian societies
(hey rights, now you are gone!)
, and then the existential books.. then finish with harry potter, for fun (although
this book
has some awesome, philosophical insights into HP, if you want a more in depth look..)
if you haven't already, sign up for
goodreads
!
you can follow all your friends, see what they are reading,
and find new books for you to read.
i'm obsessed, obviously.
so go sign up and
be my friend
on goodreads (:
then come back and tell me some of your favorite books